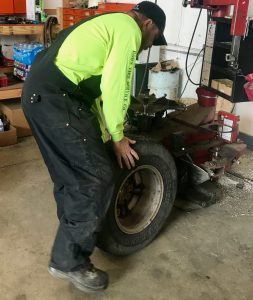 Rob's Tire Service offers you 20 years of professional experience working on every kind of tire challenge imaginable. We specialize in commercial truck tires and tire management for fleets.  Call us for more information. (720) 447-3000
.

A One on One Interview With Rob
When you first meet Rob you're struck by his open friendliness.  You sense that he genuinely wants to help you with whatever your need is at that time.  I first met Rob when our company had an issue with a truck tire.  A friend referred me to him and I made the trip to Commerce City, CO to meet Rob and to see if he could help.  First of all, I was impressed by Rob's knowledge of "all things tires" and his willingness to share that as it related to our truck tire issue.  Secondly, his transparency and honesty.  Rare these days in any business, let alone selling and servicing tires. 
In the weeks ahead I had more occasions to meet with Rob which ultimately led to this interview.  During our prior meetings all discussions centered on me and my needs.  This day I turned the tables and asked Rob to tell me more about him and what led him to open Rob's Tire Service.
After spending that time with Rob I was blown away by his humility.  Never once had he mentioned that he was in the military, let alone a combat veteran.  He was absolutely understated about his service.  As I had to pull out information on this I thought to myself, this needs to be shared with folks that have the opportunity to meet Rob since he would never bring it up on his own.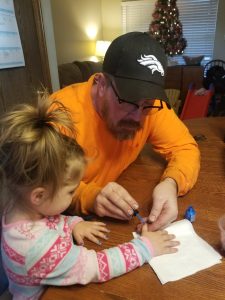 When I asked about his family, I was impressed about his devotion to his wife, children, and grandchildren.  I asked if he would share some pictures of his family with me and those that would read our interview.  Here are some below.  And, yes, that is Rob painting his granddaughters nails!  This is the same guy I had watched wrestle massive truck tires into submission on the tire rack and sling an impact wrench that will loosen the fillings in your teeth.
Words are not adequate to describe this extraordinary man.  After taking the time to get to know Rob, there is absolutely no where else I would go to have anything done to our tires.  Rob's knowledge of all things tires, his personal integrity, his genuine caring interest in helping people, and his humility make him one extraordinary tire man.  
Life is busy. You may never have the time to sit down with Rob like I did, but trust me, he is NOT your average truck tire businessman.  Next time you have a tire issue, use that as an excuse to come over to Commerce City and meet Rob.  You will make a friend who knows tires, understands people, and will help take care of all your tire needs along your life's journey!
Lee Schissler
Carillion Inc.
P.S. Be forewarned about Rob's loyalties.  He is a hardcore Broncos Fan!